Snow Smart Assignments by Grade/Day(Archived)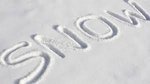 Reading Recovery Snow Smart Lesson Plans Days 1, 2, and 3
Due Date:
12/1/2018
Reading Recovery Snow Smart Days 1, 2, and 3:
1. Help your child to read the book in the book bag aloud.
2. Have your child choose 5 sentences in the notebook to read aloud.
3. Help your child to write a new sentence (at least 5 words) about the snow. Parents, please help your child by stretching the words slowly to hear all of the sounds. You may have to help with sounds/letters that they cannot hear.
4. After they write the sentence, remind them to check their writing by saying the following: Did you begin your sentences with capital letters? Do you have spaces between your words? Do you have neat handwriting? Did you include punctuation (. ? !) at the end the sentence?
5. **Return to school the following day.
---